18 July 2007 :: 17:07:42 pm
30759
The World's Worst Airline A TAM plane crashed in Brazil Tuesday.
SAO PAULO -- A jetliner crashed into a petrol station and a building owned by the airline. The plane exploded into flames at Brazil's busiest airport on Tuesday night, killing at least 200 people, local rescue workers said.
Advertise Here
The flight JJ3054 was arriving at Sao Paulo from Porto Alegre in Brazil's extreme south.
The plane crashed and burst into flames after landing in driving rain at Brazil's busiest airport, likely killing all 176 people on board in what would be the nation's deadliest air disaster, the state's governor said.
"I was told that the temperature inside the plane was 1 000°C, so the chances of there being any survivors are practically nil," Sao Paulo state Governor Jose Serra told reporters.
The runway at Congonhas airport has been repeatedly criticised for being too short and slippery runways. Two planes slipped off it in rainy weather just a day earlier, though no one was injured in either incident.
It was Brazil's second major air disaster in less than a year. In September, a Gol Aerolinhas Inteligentes SA Boeing 737 and an executive jet collided over the Amazon rain forest. All 154 people on the passenger jet died. The executive jet landed safely. It had been Brazil's deadliest air disaster to date.
As investigators prepared to open a probe into the cause of the crash of the TAM Airlines Airbus A320, questions were being raised about both the growth in Brazilian air traffic and Sao Paulo's Congonhas Airport.
President Luiz Inacio Lula da Silva declared three days of national mourning for the victims of the crash. But presidential spokesman Marcelo Baumbach said late Tuesday that no cause would be immediately released because it was premature to do so.
His worries now are with the victims and the relatives of the victims. That is main concern.
________________________________________
The World's Worst Airline A TAM plane crashed in Brazil Tuesday. I wasn't surprised.
By Elizabeth Spiers
Posted Thursday, July 19, 2007, at 5:03 PM ET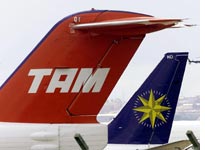 TAM Linhas Aereas is the worst airline in the world. I've been saying that repeatedly since early April, when my boyfriend and I took a short vacation in Brazil and returned happy with our stay but traumatized by the air travel. So Tuesday, when a TAM Linhas Aereas Airbus A320 on an inbound domestic route skidded off the São Paulo airport runway, tried to take off again, and crashed into a cargo building owned by the same carrier, exploding on impact and incinerating nearly 200 people, I felt angrily (and OK, smugly) justified in my condemnation.
It's not entirely TAM's fault it's a terrible airline; it's also Brazil's fault. And Tuesday's horrible accident illustrates why. Click here for an account of a typical TAM flight.
We flew TAM from New York to São Paulo and then to Manaus, back to São Paulo then to Rio, back to São Paulo again, then back to New York, all in the space of nine days—an itinerary that would have been brutal even without complications—and every single flight was delayed by several hours or canceled. My boyfriend, who's been a travel writer for more than 15 years and has landed on runways consisting mostly of grass, with a cinderblock terminal building and the local welcoming party covered in nothing but mud and chicken feathers, still insists that TAM was the worst air travel experience he's ever had.
Reporter : PDN staff Photo : Internet Category : World News